Welcome To Gits Manufacturing
Gits Manufacturing is a global, innovative solutions provider to the world's premier manufacturers. With world class R&D and manufacturing capabilities, Gits Manufacturing custom designs and builds solutions for applications including: diesel engines, turbo chargers, mobile IBC's, pumps, gearboxes and many others. Our cutting-edge production technologies and approaches ensure compliance with stringent quality specifications. The internationally acknowledged quality of our products and services is ensured by our quality management system, which is certified under ISO/TS 16949:2009.
What Application Are You Looking For?
Airflow management solutions for fuel efficiency and emissions control in  automotive, diesel, and natural gas engines.
Emission Control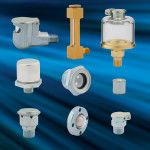 Gits has a variety of lubrication devices including oil hole cups and covers, bottle and brush oilers, liquid level and porthole view gauges, take-apart shaft seals and various other accessories.
Lubrication
Airflow management and actuation solutions for turbochargers and superchargers.
Turbo Boost
Gits vents allow high volumes of air to flow from containers where pressure and vacuum relief are necessary. 
Relief settings, body material and o rings can be specified by the customer.
Venting