These multi-purpose breather vents safeguard against extreme pressure or vacuum build-up while filtering out dust and other contaminates which can impair the functioning of expensive equipment.
How It Works
 1. As internal pressure nears the pre-set cracking level, it presses the plunger upward until the resilient seal clears the port, allowing the outflow of air.
2. Since this vent permits two-way air flow, it can also relieve a vacuum which can cause cavitation. The vacuum is cracked when the plunger is pulled down from the seal, allowing an inrush of air.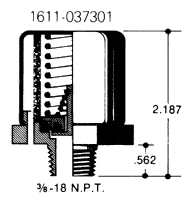 1611  Series – Steel, Trivalent Zinc Plating

1611-037301 3/8-18 NPT 25 Micron Filter